Orders received on 22.9. - 30.9.2023 will be sent after the holiday on 2.10.2023.

Samozatvárač GEZE TS 3000
Požiarna odolnosť

Áno - s certifikátom

Max. šírka dverného krídla

1100 mm

Max. váha dverného krídla

80 kg

Sila zatvárača

1 - 4

Warranty

2 years
Samozatvárač s hornou montážou pre ľavé aj pravé dvere. Regulovateľná sila zatvárania dverí, rýchlosť zatvárania dverí a koncový doraz. Vhodne pre stredne ťažké požiarne a dymotesniace dvere, pri motnáži odporúčame použiť montážnu podložku.
Použitie: Vchodové dvere do rodinných domov a exteriérové dvere.
Maximálna hmotnosť dverí 80kg, maximálna šírka krídla dverí 1100 mm
Kategória veľkosti samozatvárača podľa EN 1154: 1-4
Prevedenia
s vodiacou lištou - klasická vodiaca lišta
s vodiacou lištou a aretáciou - klasická lišta s aretačným mechanizmom (dá sa vložiť aj dodatočne) ktorý slúži na mechanické držanie otvorených dverí v určitom uhle
s vodiacou BG lištou - klasická vodiaca lišta, ktorá je určená pre montáž na stranu proti závesom dverí
Samozatvárače v iných RAL farbách na objednávku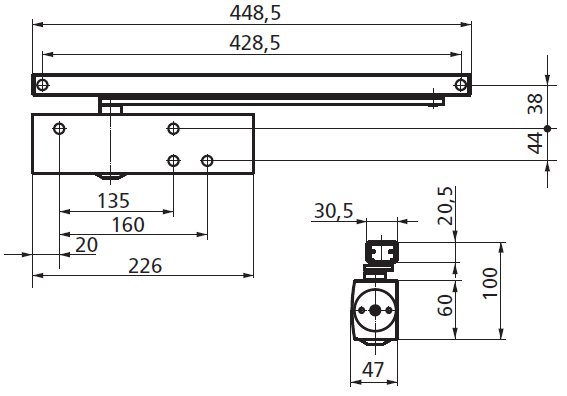 4 other products in the same category: