Orders for furniture fittings created 7.8. - 14.8.2020 will be sent after this date.

Samozatvárač GEZE TS 4000
Your personal information is safe with us
Fast order delivery, Delivery in Europe

Return orders within 14 days*
Požiarna odolnosť

Áno - s certifikátom

Max. šírka dverného krídla

1400 mm

Max. váha dverného krídla

120 kg

Sila zatvárača

1 - 6

Warranty

2 years
Samozatvárač s hornou montážou pre ľavé aj pravé dvere. Nastaviteľná sila zatvárania dverí, rýchlosť zatvárania, regulovanie tlmenia otvárania, koncového dorazu a ukazovateľ sily nastavenia. Vhodný na ťažké požiarne a dymotesniace dvere, pri montáži odporúčame použiť montážnu podložku.

Použitie: Vstupy do úradov, škôl a rôznych inštitúcii. Vhodný do priestorov s vysokou frekvenciou pohybu ľudí. Maximálna hmotnosť dverí 120 kg, maximálna šírka krídla dverí 1400 mm.
Kategória veľkosti samozatvárača podľa STN EN 1154 :1-6.
Prevedenia:
s ramienkom - klasické ramienko
s aretačným ramienkom - mechanické držanie otvorených dverí v určitom uhle
s vypínateľným aretačným ramienkom - mechanické držanie otvorených dverí v určitom uhle s možnosťou vypnutia tejto funkcie
Samozatvárače v iných RAL farbách na objednávku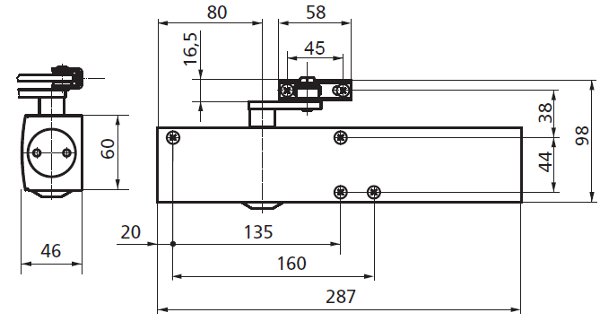 Data sheet
Požiarna odolnosť

Áno - s certifikátom

Max. šírka dverného krídla

1400 mm

Max. váha dverného krídla

120 kg

Sila zatvárača

1 - 6

Warranty

2 years